Back to Events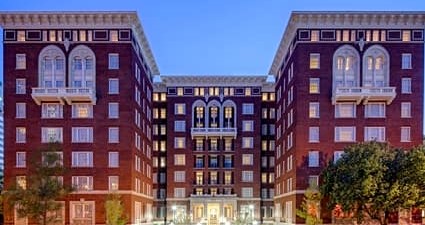 CAMA Task Group & Board of Directors Meeting
Monday, October 7, 2019
at
8:00 AM (EDT)
to Wednesday, October 9, 2019 at 3:00 PM (EDT)
* Registration open until 9/6/19 at 12:00 PM ()
Event Details
Arrangements have been made for the CAMA Task Group and Board of Directors Meetings in Birmingham, Alabama on Monday, October 7 - Wednesday, October 9, 2019. Click on the Registation Options button to register now. The deadline to register is September 6, 2019.
HOTEL RESERVATIONS

In connection with the upcoming Association meeting, please make your room reservations directly with the hotel at the following link or by calling the hotel directly at 1-877-620-8002. The group booking code is CAM.
The cutoff date to make reservations and to register with the CAMA office is September 6th, 2019. The sleeping room rate is $129.00 standard King rate.
Check in time is 4:00 p.m. on the day of your arrival, and the availability of your room cannot be assured prior to this time. Check-out time on the day of your departure is 11:00 a.m.
To obtain additional information about The Tutwiler Hampton Inn and Suites, visit Hampton Inn and Suites Birmingham.
Complimentary WiFi in sleeping rooms. Wireless will be available in the meeting rooms.
Individuals may cancel no later than 72 hours from the arrival date without penalty. Any cancellations after 72 hours prior to arrival will result in the automatic charge of one night's room and tax.
GRATUITIES
Porterage and housekeeping gratuities are at each individual's discretion.
METHOD OF PAYMENT

The hotel will accept cash and most major credit cards.
HOTEL PARKING

Self parking not available. Valet $24.
DIRECTIONS TO HOTEL

Directions to the hotel and directions from the airports can be accessed at the following link:
PROXY
Due to the important strategic initiatives CAMA may be undertaking, we ask that all CAMA Board of Directors attend the meeting. If you cannot attend, it would be beneficial to send a proxy to vote on any pertinent items. We have also included a proxy form for those who cannot attend the face-to-face meeting but would like to give your vote to another Member representative. If you do not plan to attend, please forward your proxy form to the CAMA office by September 6, 2019. A copy of the Proxy form can be downloaded here: CAMA Proxy Form

Attire
Business casual dress is encouraged for all meetings.
We encourage you to make your hotel and airline reservations now so your specific plans can be accommodated. Keep in mind that changes can always be made later if necessary.
A final meeting notice, agendas and other pertinent information will be circulated approximately two weeks before the meeting.
We look forward to seeing you in Birmingham.
MEETING SCHEDULE (All meetings at Hampton Inn & Suites Birmingham unless otherwise noted)

MONDAY, OCTOBER 7, 2019
8:00 a.m. – 10:30 a.m. – AC232 Task Group
10:30 a.m. - 12:00 p.m. - AC308 Task Group
12:00 p.m. – 1:00 p.m. - Lunch on your own
1:00 p.m. – 3:00 p.m. – AC70 Task Group
3:00 p.m. – 5:00 p.m. – AC193 Task Group
5:00 p.m. - 6:00 p.m. - Certification Task Group
TUESDAY, OCTOBER 8, 2019
8:00 a.m. - 12:00 p.m. - ICC-ES Committee Hearings
AC232 and AC58 (Westin Birmingham)
12:00 p.m. – 2:00 p.m. – AC58/AC01 Task Group - Masonry
2:00 p.m. – 4:00 p.m. - AC510 Seismic Task Group
4:00 p.m. – 5:00 p.m. – Research Task Group
5:00 p.m. – 6:00 p.m. – AC60 Task Group
WEDNESDAY, OCTOBER 9, 2019
8:00 a.m. – 2:00 p.m. - Board of Directors Meeting
Lunch will be provided.
*Scheduled meeting times are subject to change