Back to Events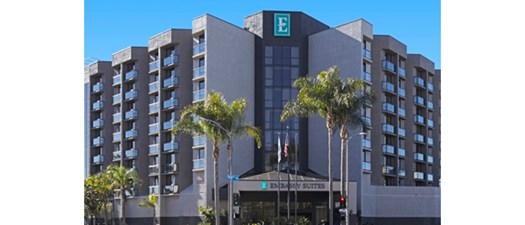 CAMA Task Group & Board of Directors Meeting - February 2020
Monday, February 3, 2020
at
8:00 AM (EST)
to Wednesday, February 5, 2020 at 2:00 PM (EST)
* Registration open until 1/25/20 at 12:00 PM (EST)
Event Details
Arrangements have been made for the next CAMA Task Group and Board of Directors Meetings in Los Angelos, CA. Please register for the meeting by December 30.
HOTEL INFORMATION

Reservations - $179 per night + tax
OPTION #1: Call the reservation center at (800) 559-5179 and give them the Group Code "CAM" to receive the Group Discounted Rate or say they are with Concrete Anchor Manufacturers.
OPTION #2: Use the following website at www.laxembassy.com and fill in the Group Code "CAM" to receive the Group Discounted Rate.
The cutoff date to make sleeping room reservations at the group rate is December 30.
Check-in time is 3:00 p.m. on the day of your arrival, and the availability of your room cannot be assured prior to this time. Check-out time on the day of your departure is 12:00 p.m.
Cancellation must be provide to the hotel 48 hours ahead of scheduled arrival to avoid a cancellation fee equal to one night's room & tax.
Parking Self parking is $44.
Directions / Transportation A complimentary shuttle runs from LAX every 20-25 minutes. Click here for detailed directions to the hotel.
PROXY
Due to the important strategic initiatives CAMA may be undertaking, we ask that all CAMA Board of Directors attend the meeting. If you cannot attend, it would be beneficial to send a proxy to vote on any pertinent items. We have also included a proxy form for those who cannot attend the face-to-face meeting but would like to give your vote to another Member representative. If you do not plan to attend, please forward your proxy form to the CAMA office by JANUARY 24, 2020. A copy of the Proxy form can be downloaded here: CAMA Proxy Form

We encourage you to make your hotel and airline reservations as soon as possible so your specific plans can be accommodated. Keep in mind that changes can always be made later if necessary.
A final meeting notice, agendas, and other pertinent information will be circulated approximately two weeks before the meeting.
Please contact the CAMA office if you have any questions about the event.
For More Information:
Rachel James
Client Services Associate
Thomas Associates, Inc.
MEETING SCHEDULE (All meetings at Embassy Suites)

MONDAY, February 3, 2020
8:00 a.m. –10:30 a.m. – AC232 Task Group
10:30 a.m. –12:00 p.m. – AC308 Task Group
12:00 p.m. – 1:00 p.m. – Lunch on your own
1:00 p.m. – 3:00 p.m. – AC70 Task Group
3:00 p.m. – 4:30 p.m. – AC193 Task Group
4:30 p.m. – 6:00 p.m. – Research Task Group
TUESDAY, February 4, 2020
8:00 a.m. – 12:00 p.m. – AC58/01
12:00 p.m. – 1:00 p.m. – Lunch on your own
2:00 p.m. – 4:00 p.m. – AC510 Seismic Task Group
4:00 p.m. – 5:00 p.m. – AC60 Task Group
WEDNESDAY, February 5, 2020
8:00 a.m. – 2:00 p.m. - Board of Directors Meeting
Lunch will be provided.
*Scheduled meeting times are subject to change.